Adam Sandler took a break from filming and wrapped up warm as he spent the morning at a cafe with wife Jackie. The couple got married in 2003 and have two daughters together, Sadie and Summer.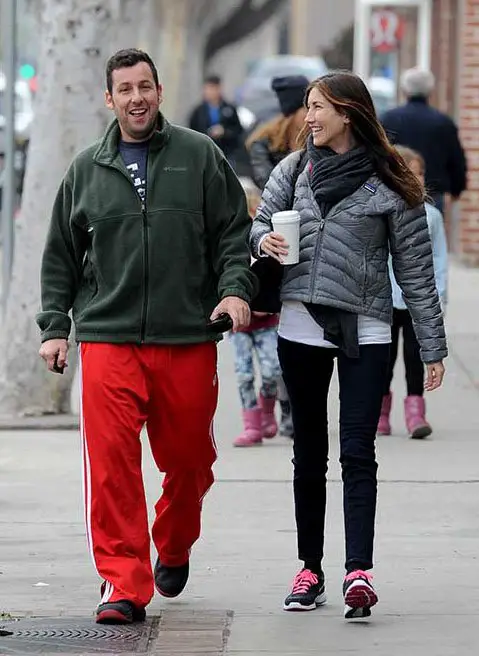 Sandler wore casual red adidas track pants with a green fleece top, while wife Jackie appeared much more dressed up in tight skinny jeans and a Patagonia jacket as they enjoyed the cooler LA winter weather.
Adam and Jackie appeared to be sharing a joke as they headed to the car, Jackie held onto a take out coffee as she wrapped up with a scarf and winter jacket in LA.
Sandler is currently promoting two upcoming projects for 2018. His first film The Week Of is a American comedy which was co-written by Adam and directed by Robert Smigel. The film also stars Chris Rock, Rachel Dratch, Steve Buscemi.
GUESS THE STAR: Funny Guy in "Native" Slip-Ons Looking at Building For Sale
Hotel Transylvania 3: Summer Vacation, will also be released in 2018 as he returns to the monster family as they embark on a vacation on a luxury monster cruise ship.
Adam Sandler Trivia: Adam Sandler's nickname is 'Sandman'.